July 23, 2013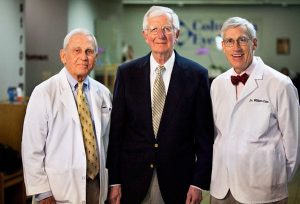 This year, the Columbia Eye Clinic celebrates 90 years in continuous care of patients. When Dr. Walter J. Bristow, Sr. began the practice in Columbia in 1923, physicians did not focus solely on Ophthalmology, but were generalists in Eye, Ears, Nose and Throat. The first office was in the Chestnut Cottage on Barnwell Street where Confederate President Jefferson Davis had addressed the people of Columbia from the front porch less than 60 years earlier during the Civil War.
Upon Dr. Bristow's retirement in 1957, Dr. Shepherd Dunn took over the practice, with Dr. Edward Hopkins joining him just a few years later in 1962. In the early 1960's, Dr. Dunn and Dr. Hopkins were two of only six eye surgeons in Columbia. At that time, there were no emergency physicians and each Ophthalmologist was on call every sixth night to handle all manner of emergencies effecting patients' eyes. In the late 1960's, as additional physicians joined, the practice officially adopted the Columbia Eye Clinic name. Still currently in the practice, Dr. Hal Crosswell joined in 1967, Dr. William Crosswell, Dr. William Cain, Jr. and Dr. William Johnson, Sr. followed in the late 1970's.
As recently as the late 1960's, long after physicians began to specialize in Ophthalmology, they still did not operate on a patient's cataracts until they were legally blind in one eye and had 20/60 vision or worse in the other eye. Subsequent to an operation, patients were hospitalized for three days and after recovery, relied on thick glasses. Much has changed in the practice of Ophthalmology since then. Over the years, Doctors moved from the use of loops to conduct surgery to microscopes. The technology and mechanics evolved quickly beginning in the late 1970's, including inserting corrective lenses into the eye after cataract removal. Today, patients undergo outpatient surgery at the Columbia Eye Surgery Center and recover comfortably at home. Beginning this summer, the Alcon LenSx femtosecond surgical laser will revolutionize how cataract surgery is performed in the Midlands, using the most advanced technology to allow the surgeon to perform certain key steps within cataract surgery with a laser rather than a blade.
In a recent opportunity to sit down with one of the practice founders, Dr. Edward Hopkins reminisced about forty years in the busy practice. He shared stories of treating people from all walks of life, including the likes of former Governor of South Carolina and United States Diplomat, Mr. James F. Byrnes, patients at the Harden Street Extension (behind what is now Palmetto Richland Hospital) and Waverly Hospital in the time of segregation, and the 30-40 charity patients he saw at his office every Tuesday before Welfare and Medicare reimbursements, all with the same care and compassion.
Dr. Hopkins, now retired, attributes the success of the practice to, "surrounding himself with smart people, a willingness to learn from younger physicians, and a culture of being "good" to patients."` Over the years, even patients unable to pay their bills found ways to show gratitude for Columbia Eye Clinic physicians saving their sight. Dr. Hopkins once received an anonymous note and small diamond ring in his home mailbox in payment for a procedure he performed several years earlier. Another patient mailed a check in 2001 when they were finally able to pay for a surgery performed in 1981. Now with 13 physicians, the principles on which the practice was built are evident today in the staff and physicians' kind attitude toward patients as well as the commitment to making the most advanced equipment available to their patients.