Columbia Eye Clinic is proud to announce the addition of Derek L. Barker, M.D. to the staff. Dr. Barker is a board certified ophthalmologist specializing in vitreoretinal diseases including macular degeneration, diabetic retinopathy and retinal detachments.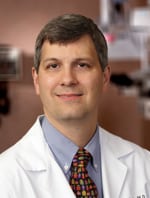 A 1990 University of North Carolina graduate, Dr. Barker moved to Charleston, South Carolina to attend the Medical University of South Carolina where he earned his Master of Science in Biomedical Science- Biometry/Biostatistics & Epidemiology. Dr. Barker received his medical degree from the Medical University of South Carolina. He completed his residency in Ophthalmology at the University of Alabama at Birmingham.
Dr. Barker earned his Medical Retina Fellowship at Bascom Palmer Eye Institute at the University of Miami in Miami, Florida. He earned his Surgical Retina Fellowship  at Southern Vitreoretinal Associates in Tallahassee, Florida. Aside from his practice in Florida, Dr. Barker instructed at the University of Miami and Florida State University School of Medicine. Dr. Barker's extensive knowledge in vitreoretinal diseases will assist Columbia Eye Clinic in establishing a retina center for Columbia to compliment Columbia Eye Clinic and Columbia Eye Surgery Center.
With 14 physicians and three locations, Columbia Eye Clinic is the largest ophthalmology practice in the Midlands and one of the largest in South Carolina.  Columbia Eye Clinic's team of board certified ophthalmologists has been providing adult and children's eye care and surgery for over 40 years.  A full range of services, from advanced laser vision correction and specialty eye care including cataract surgery to glasses and contact lenses, is offered.  Columbia Eye Clinic, together with Columbia Eye Surgery Center, offers the most up-to-date corrective and vision care surgery.