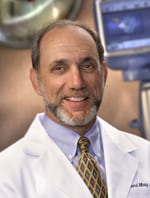 Columbia, SC – Edward G. Mintz, M.D. has been named Medical Director of the Columbia Eye Surgery Center.  His responsibilities as Medical Director include overseeing the direction, operations and clinical quality of care for the ambulatory surgery center.  Dr. Mintz will continue to see patients and perform surgery.
Dr. Mintz specializes in comprehensive Ophthalmology and cataract and refractive surgery.  He completed his residency in Ophthalmology at the Eye Foundation Hospital at the University of Alabama- Birmingham. He holds a Ph.D. in Chemistry from the University of South Carolina-Columbia and a B.A. from the University of Virginia-Charlottesville. He is certified by the American Board of Ophthalmology, is a member of the Alpha Omega Alpha Medical Honor Society and the American Society of Cataract and Refractive Surgery.
###
About Columbia Eye Surgery Center
The ambulatory surgery center is located adjacent to the Columbia Eye Clinic at 1920 Pickens Street at Calhoun in downtown Columbia, South Carolina.  Physicians from four local Ophthalmology practices utilize the latest in technology and equipment to conduct more than 5,000 outpatient procedures each year.  Contact your eye doctor for a referral.
Columbia Eye Clinic, P.A.
(803) 779-3070
William Cain, Jr., M.D.
H. Holland Crosswell, III, M.D.
Charles D. Finley, M.D.
D. Reynell Harder Smith, D.O.
William A. Johnson, Jr., M.D.
Edward G. Mintz, M.D.
R. Mitchell Newman, Jr., M.D.
Garner J. Wild, M.D.
Eye Consultants, LLC
803-799-9919
James B. Dickson, M.D.
Orangeburg Eye Center, LLC
803-534-0266
Fulton J. Gasper, M.D.
The Eye Center, P.A.
(803) 256-0641
Matthew T. Clary, M.D.
R. Brian Huff, M.D.