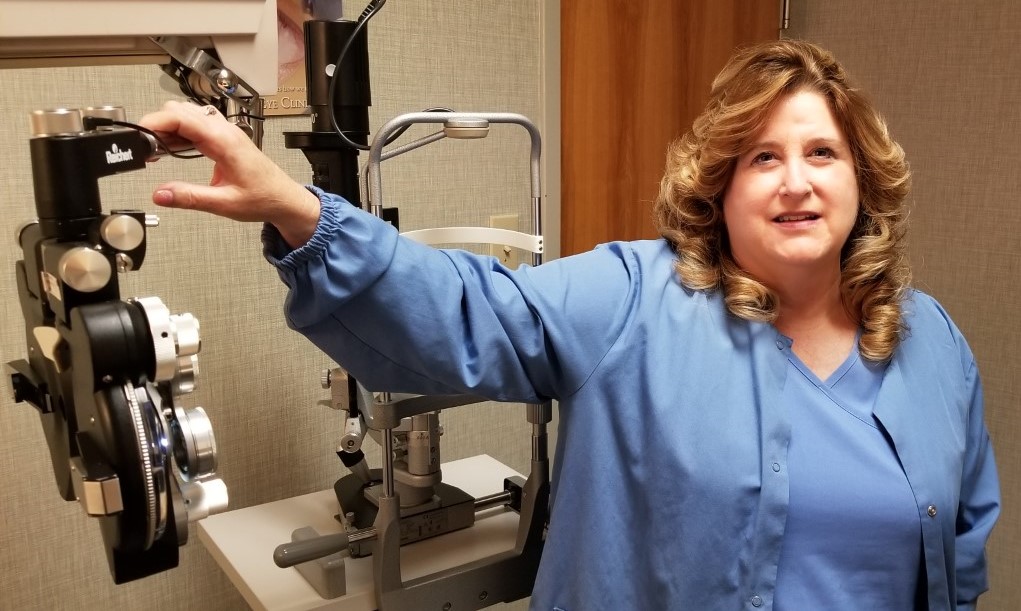 When Homa Greene, R.N. joined Columbia Eye Clinic 43 years ago, she was hired to assist Dr. William Cain, Jr., M.D. when he joined the practice and has worked side-by side as his Lead Technician for the entirely of that time. Back then, she traveled with Dr. Cain, seeing patients in Bennettsville, Hartsville, Santee, and West Columbia, assisting him in the office as well as in the operating room with surgery.
Prior to the opening of the Columbia Eye Surgery Center, surgery was performed in the hospital, and it took a full year to learn to assist with surgery, including learning to use the operating room microscope. Through the years, Homa has cross-trained to help fill-in in just about every area of the practice and has mentored countless other staff.
Homa says that she feels fortunate to have spent her career working with physicians that have not forgotten that healthcare is about helping people and show kindness, generosity and caring to the staff and patients.
What do you enjoy most about your job?
Homa:  My favorite part of my job is interacting with patients. Patients are so kind and appreciative for the care we provide. Taking in the medical advice their physician is giving them can be overwhelming and scary. I hope I am able to help them better understand and give them peace of mind when they are anxious about a diagnosis or procedure.
What do you find most rewarding about your job?
Homa:  After nursing school and prior to joining Columbia Eye Clinic, I worked in the hospital and often had to deal with difficult and tragic situations. My work helping Dr. Cain restore people's sight through procedures like cataract surgery and LASIK is positive and rewarding. We also catch conditions like glaucoma in the early stages before it causes permanent vision loss, and sometimes even life-threatening conditions.
What would you say is unique about Columbia Eye Clinic?
Homa:  There are not many workplaces anymore where co-workers (and the doctors) are like family. Columbia Eye Clinic is still locally owned by our physicians and they foster an environment where staff are valued and appreciated. I believe this is reflected in the quality of the care we provide and respect we give to our patients. Dr. Cain has said "thank you" to me at the end of every single day that we have worked together for the last 43 years. My co-workers have been there for me through many ups and down in my life. Some other long-time staff have retired, but we still get together often outside of work.
Patients know you as a kind and caring healthcare professional, but tell us about yourself…what do you like to do outside of work?
Homa:  I come from a large family in Rockingham, NC and have two daughters, one son, and six grandchildren. I am an active member of the Church of Jesus Christ of Latter-day Saints and family and my faith are very important to me. I enjoy genealogy and find it exciting to learn about my ancestors. I've even connected family members with living relatives they didn't know existed through my research on ancestry.com! I also love to read.