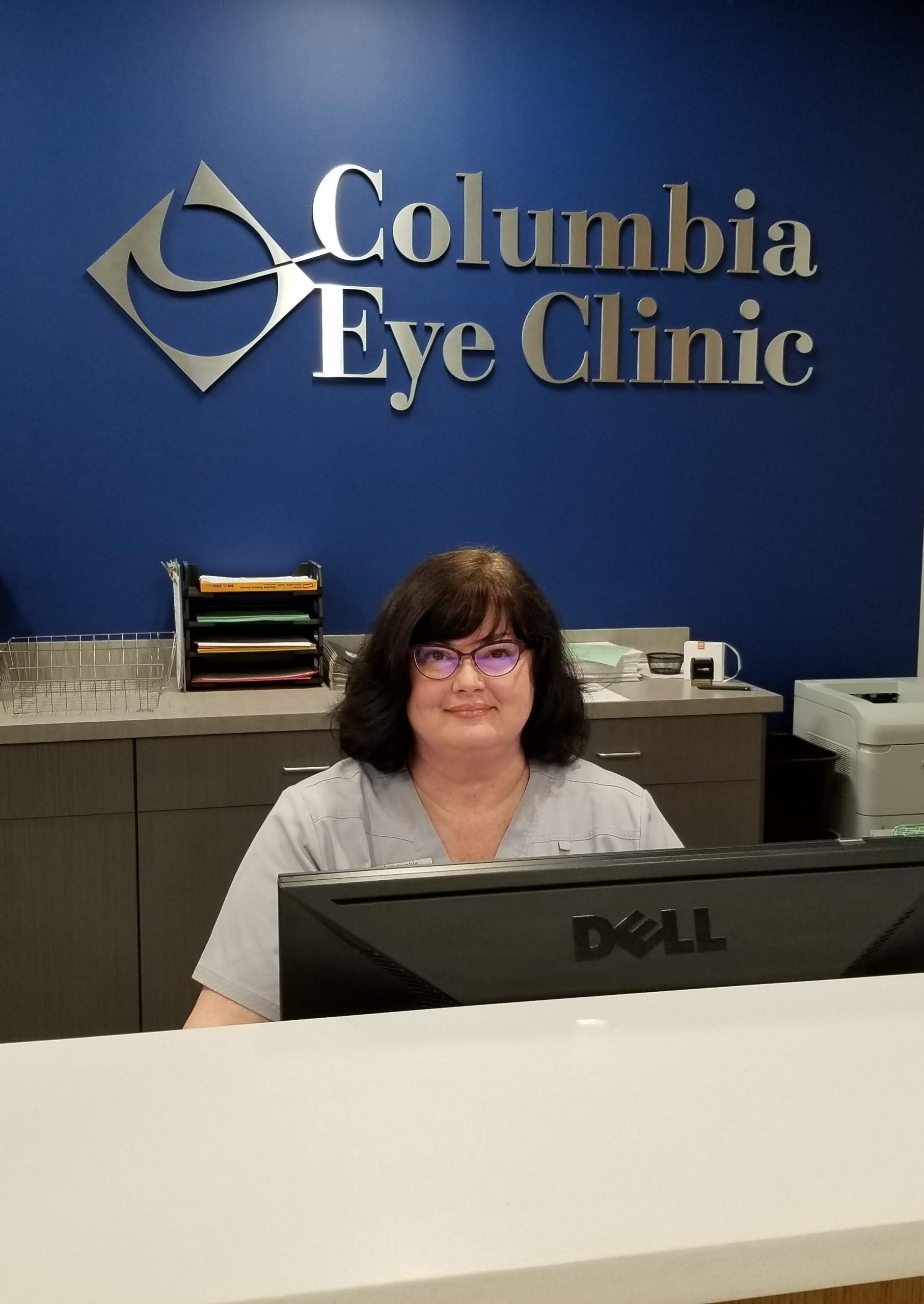 Much has changed since Sally Thompson started working at Columbia Eye Clinic 27 years ago. But despite the practice's growth, advances in technology, and changes in the insurance industry, one thing has remained constant and has made her proud to be part of the practice—the kindness, generosity and caring the physicians at Columbia Eye Clinic show to the staff and patients.
When she joined the practice, Sally was the only front desk staff person at the Pickens Street clinic. Today, Sally is a patient services supervisor overseeing a number of front desk staff at the Pickens Street clinic to make sure patients are checked in and out smoothly during their visit.
Sally is seen among the staff as the go-to person and recognized for being a team player and always going above and beyond to look out for patients' best interest. Sally's colleagues describe her as fair, soft spoken, friendly, kind, respectful, professional and proficient. She is esteemed as a friend, mentor and supervisor.
What do you enjoy most about your job?
Sally:  When I moved to Columbia to be closer to family and took the front desk job at Pickens Street, I never could have imagined that my co-workers and the doctors would also become like a family to me. I have been so fortunate to learn from my co-workers over the years. There is a comraderie among the staff and physicians. I enjoy coming to work as much today as I did when I first started all those years ago.
What do you find most rewarding about your job?
Sally:  I love working with our patients, connecting with them, and letting them know that they are important. As front desk staff, we are the first and last people patients have contact with during their visit. It can be stressful for patients to deal with insurance and paperwork and process the information and medical advice their physicians is giving them. Each patient has different needs and it is fulfilling that I can help them navigate their visit.
What would you say is unique about Columbia Eye Clinic?
Sally:  Hands down, the quality of care that our patients receive. Our team of physicians have the education and experience to handle even the most complex ophthalmic conditions and stay abreast of the latest advancements in technology to diagnose and treat patients. I am very proud to be part of a practice that hasn't forgotten that healthcare is about helping people.
Patients know you from your friendly smile at the front desk, but tell us about yourself…what do you like to do outside of work?
Sally:  Family is very important to me. I grew up in Bluefield, Virginia and come from a big family. I am the oldest of eight siblings (six brothers and one sister).  I moved to Columbia after two of my siblings relocated here and eventually, my whole family came down to South Carolina. I love the milder weather here! My hobbies are my spending time with my three grandchildren and I love to read and garden.