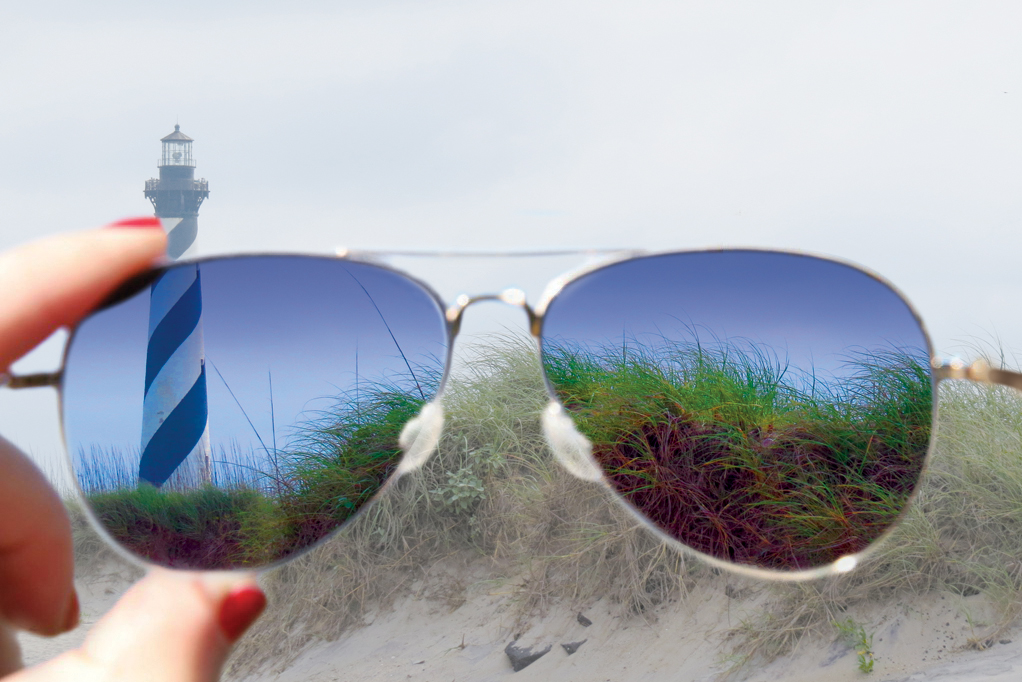 Polarized lenses with ultraviolet coating improve vision by making colors appear deeper and bolder and eliminating uncomfortable and often dangerous glare. Darkly tinted sunglasses without UV protection can potentially do more harm than good, as the darkness of the lens can cause the pupil to dilate, allowing damaging ultraviolet rays into the inner parts of the eye.
Tinted sunglasses may reduce brightness and improve wearer comfort, but they do not remove glare like a polarized lens. Polarized lenses can play an important safety role for drivers, particularly in morning and late afternoon sun. The dangerous, vision obscuring light reflected off bright, flat surfaces such as water, wet roads, sand, snow, car hoods, and windshields can be virtually eliminated by wearing polarized lenses.
For fishing and other watersports, polarized lenses eliminate the burden of eye strain and squinting that are magnified on the water. They also give anglers the edge for sight fishing and for safety by allowing you to see objects below the surface of the water.
Polarized sunglasses won't improve your golf swing, but from the fairway to the tee box, polarized sunglasses will help your game by reducing glare from water hazards and by helping you spot your ball more easily.
When wearing polarized lenses, you may notice patterns in certain materials that are not visible otherwise. This can most often be seen in the tempered safety glass of car windows as a cross hatch pattern. This has no effect on the sharpness of vision, but often surprises first-time wearers of polarized sunwear.
Another consideration when selecting prescription sunwear, is adding an anti-reflective treatment to the back surface of the lens. This helps to reduce the amount of light that can be reflected off the lens surface and into the eye.  Reducing these reflections results in the wearer experiencing an even greater level of visual clarity than they would with polarization alone.   Anti-reflective treatments, when added to the front side of polarized lenses, can sometimes be used to create an attractive mirrored look, as well!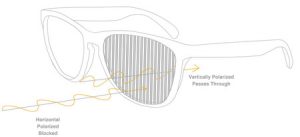 What is Polarization?
Light waves coming directly from the sun vibrate in all directions and are considered non-polarized. When vibration is restricted to a single direction or plane, the light is considered to be polarized.
The concept behind polarized lenses is perhaps best illustrated by thinking of the lens as containing a microscopic Venetian blind. The slats in a Venetian blind block the transmission of light from certain angles while allowing it from other angles. Polarized lenses have a special layer that creates the effect of horizontally aligned "blinds" to absorb the reflected light that impairs vision.
Through June 30, 2021, buy one pair of complete prescription glasses, get a pair of sunglasses of equal or lesser value half off! Walk-in or schedule an appointment at the Optical Shops at any of our three convenient locations. Mention the offer or print a coupon.