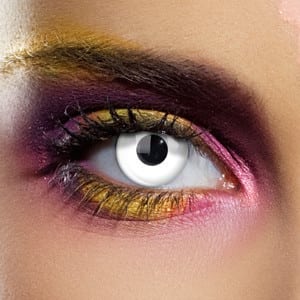 Tiger eyes, checkered pupils, zombie white out: non-prescription costume contact lenses come in many different patterns and colors. Despite Federal Drug Administration restrictions, costume contact lenses remain available on the internet, in convenience stores and at flea markets.  These illegally sold costume contact lenses may not be sterile and can cause a host of serious eye problems capable of morphing a fun Halloween night into a nightmare. To avoid a real-life Halloween horror story our physicians warn against wearing costume contact lenses purchased without a prescription.
Below are frightening ways that non-prescription decorative lenses can hurt your eyes:
Scratches – Because over-the-counter lenses are not fitted and sized for the person wearing the contacts, they can easily scrape the outer layer of the eye. The resulting corneal abrasions can cause redness, light sensitivity, discharge, pain, plus the feeling that something is stuck under the eyelid.
Ulcers – Costume contact lenses can cause a corneal ulcer, with symptoms similar to corneal abrasions. The ulcers sometimes appear as a white dot on the cornea. When the ulcers heal, they can scar over and can in some cases permanently affect vision.
Infections – Both corneal abrasions and ulcers create openings in the eye, making them more vulnerable to bacteria, viruses and amoebas. All of these organisms can cause serious eye infections known as keratitis.
Blindness – In the most extreme cases, complications from wearing costume contact lenses may require surgery or end in blindness. For instance, extensive scarring from an infection can distort the cornea or make it opaque, requiring a corneal transplant to restore vision.