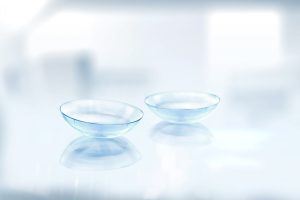 Wearing contacts for longer than instructed can cause eye irritation, infection, abrasions, and vision issues!
Whether your wear daily, weekly, or monthly disposable contacts, Columbia Eye's contact lens departments at our four convenient locations are here to make sure you always have a supply of fresh contact lenses. Call or walk-in to ask about annual supply discounts, online reordering and contact lens subscription service that provides refills of your contacts shipped directly to you when you need them.
Daily contacts are designed to throw away after a single use. Never reuse daily contact lenses because they're not designed to withstand washing and disinfecting. Their thin nature, coupled with the soft, flexible material makes the contacts more breathable and comfortable for the eye, but attempting to clean them can cause scratches and tears, causing serious complications that can threaten your vision.
You should also never sleep in your contacts unless they're FDA-approved for overnight use (dailies are not). Your eyes need rest, so contact lenses should be worn for about 14 to 16 hours per day or according to your doctor's advice.  Sleeping in your contacts reduces oxygen supply to your eyes and causes irritation.
Always wash your hands thoroughly with soap and water and dry them with a clean towel before handling your contacts. Harmful bacteria, viruses, or parasites on dirty hands contaminate the surface of the soft contacts which will then be transferred to your eyes, exposing you to risk for infection. Dirty hands may also introduce debris, such as dust, which can irritate your eyes.
You should wait to insert your contacts until after completing your morning routine. Washing your face or showering can expose your contacts to germs in tap water. Hair styling with sprays and aerosols can expose your contacts to eye irritating chemicals and hair sprays can form a coating on your contacts, affecting your ability to see.
Makeup products are a breeding ground for harmful bacteria and should be applied after inserting your contacts. Makeup residues from your hands can easily get onto your contacts and potentially cause eye infections.
If your eyes are irritated, remove your contact lenses and let your eyes rest before inserting a new pair. Consult your eye doctor if the irritation persists.