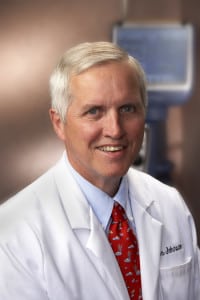 After 39 years in practice, Ophthalmologist William A. Johnson is retiring from practice at Columbia Eye Clinic. His work as a doctor has left the world a better place and the fourteen physicians and more than 100 staff of Columbia Eye Clinic congratulate him on his retirement.
Dr. Johnson is a proud graduate of the Medical University of South Carolina (MUSC) where he was accepted after just three years at Clemson University. While in medical school, he served as President of the Alpha Omega Alpha Honor Medical Society. He completed his internship and residency at the MUSC Storm Eye Institute.
Dr. Johnson has served actively on the MUSC Storm Eye Institute Board of Directors since 2000 and is now an emeritus member. Dr. Johnson was the first recipient of the MUSC Storm Eye Institute Distinguished Alumni Award and in 2015 endowed a Neuro-Ophthalmology Chair position there.
Dr. Johnson is proud that all three of his children also attended MUSC. His daughter, Garner J. Wild, M.D. and son William A. Johnson Jr., M.D. are Ophthalmologists practicing at Columbia Eye Clinic and Columbia Eye Surgery Center and his son Brandon F. Johnson, D.M.D. is a Dentist practicing at Spring Valley Dental Associates.
Dr. Johnson is a lifelong member of Shandon Methodist Church where he has served in various capacities on the church, administrative and financial Boards of Directors.
Dr. Johnson cites that his best reason for retiring is to spend more time with his seven grandchildren. He and his wife of 46 years, Sandra, will maintain their primary residence in Northeast Columbia and spend time traveling and at Debordieu, as their busy schedule with their grandchildren permits.