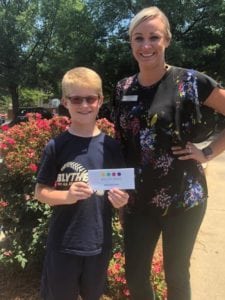 Eleven-year-old Sean McDermott and his parents first learned about EnChroma corrective glasses for people with color blindness from a video posted by someone Sean follows on YouTube. Sean's parents learned that he is color blind when he was in kindergarten. After doing some research, they found Columbia Eye Clinic to be the only authorized EnChroma dealer in the Carolinas and made an appointment with one of our licensed opticians to see if Enchroma glasses could help Sean with his color deficiency.
According to EnChroma, approximately 1 in 12 men and 1 in 200 women have some degree of color blindness. People with color blindness can usually still see colors, but have color confusions or see certain pairs of colors so similarly that they cannot tell them apart. Based on more than a decade of research, EnChroma corrective glasses enhance color vision for people with color blindness. EnChroma glasses are designed to make you look good, too, so better color vision can be a seamless part of your everyday routine.
EnChroma estimates that 4 out of 5 cases of color blindness are addressable using their optical lens technology. The technology worked for Sean and his parents are now understanding much color he was missing out on. Sean loves to color and now that he can see colors he tends to select a lot of the wrong colors. He is now learning his colors all over again because what used to be a specific color to him may be different now. Sean also loves to plant flowers with his mom. The day he tried the EnChroma glasses they were walking around in their yard and she realized how limited his perception of color had been.
To find out if EnChroma glasses can help with your color vision deficiency call us at 803.748.8680 to schedule an appointment with our licensed and Board-certified opticians to view the new EnChroma technology.