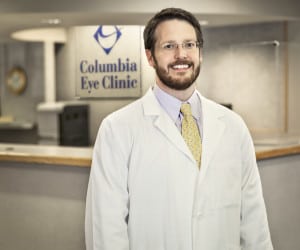 The fourteen physicians and more than 100 staff of Columbia Eye Clinic welcome Derrick A. Huey, M.D. to the practice.  He is excited to relocate to the Midlands to join the largest and most advanced medical surgical Ophthalmology practice in the Midlands after practicing in Charleston.
Dr. Huey specializes in Ophthalmic and Cataract Surgery and comprehensive Ophthalmology. His clinical interests include:
Presbyopia and Astigmatism Correcting Cataract Surgery,
Medical and Laser Management of Glaucoma,
Dry Eye Management,
Pterygium Excision,
Management of Ocular Inflammation and Uveitis.
He will see patients at Columbia Eye Clinic's three conveniently located offices in downtown Columbia, Northeast Columbia and Lexington.
Dr. Huey completed his Residency at the Medical University of South Carolina Storm Eye Institute in Charleston, SC where he served as Chief Resident for ocular trauma management.   He earned his M.D. and completed his Internship at the Medical University of South Carolina-Charleston, SC.  He graduated from the College of Charleston-Charleston, SC with a B.S.  He is a member of the American Academy of Ophthalmology, American Medical Association, South Carolina Medical Association and Alpha Omega Alpha Medical Honor Society.